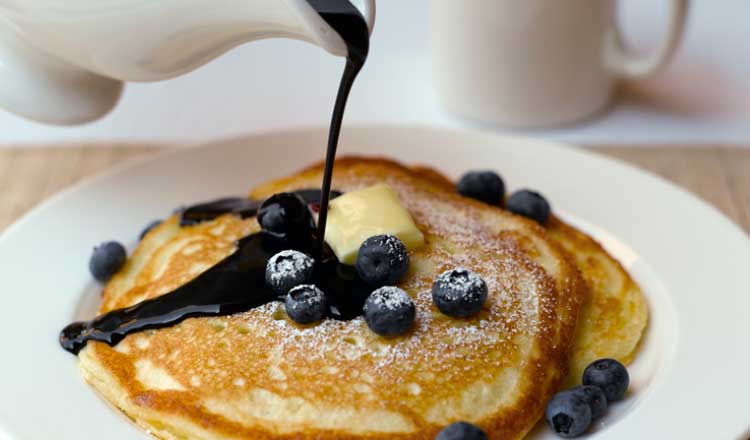 Makes 8 Servings Pancakes
Ingredients
2 cups all-purpose flour 1/4 cup sugar 4 teaspoons baking powder 1/2 teaspoon baking soda 1/2 teaspoon kosher salt 2 1/4 cups buttermilk 4 large eggs 1/4 cup butter, melted and cooled 1 cup blueberries, fresh or frozen Cooking spray or vegetable oil to coat pan, as needed

… Makes 8 Servings
Pancakes
Syrup
Makes 2 Cups
Ingredients
2 cups all-purpose flour
1/4 cup sugar
4 teaspoons baking powder
1/2 teaspoon baking soda
1/2 teaspoon kosher salt
2 1/4 cups buttermilk
4 large eggs
1/4 cup butter, melted and cooled
1 cup blueberries, fresh or frozen
Cooking spray or vegetable oil to coat pan, as needed
Directions
Sift the flour, sugar, baking powder, baking soda, and salt together into a mixing bowl. Reserve 3 tablespoons of the flour mixture in a zip-close bag. Make a well in the center of the flour mixture.
In a separate bowl, blend the buttermilk, eggs, and butter. Pour the buttermilk mixture into the well in the flour mixture and stir by hand just until the batter is evenly moistened. The batter is ready to use or may be stored covered and refrigerated for up to 12 hours.
Heat a large skillet or griddle over medium-high heat. Oil it lightly by brushing or spraying with cooking oil. Just before making the pancakes, add the blueberries to the reserved flour mixture; shake gently until the berries are evenly coated. Fold the berries into the batter. Drop the pancake batter into the hot pan by large spoonfuls (about 1/4 cup). Leave about 2 inches between the pancakes to allow them to spread and to make turning easier.
Cook on the first side until small bubbles appear on the upper surface of the pancake and the edges are set, about 2 minutes. Use an offset spatula or a palette knife to turn the pancakes and finish cooking on the second side, another 2–3 minutes. Adjust the temperature beneath the skillet or griddle to produce a good brown color
Serve the pancakes at once.
Ingredients
4 cups blueberries, fresh or frozen
1 teaspoon lemon zest
1 cup maple syrup
Directions
Combine the blueberries and lemon zest in a medium-sized saucepan. Bring to a simmer over medium heat and simmer, stirring occasionally, until most the juice has been released and the mixture develops a sauce-like consistency, about 10 minutes.
Strain the mixture through a fine-mesh sieve into a clean saucepan, making sure to press all of the juice out of the blueberry mixture. Return the juice to a simmer and add the maple syrup. Simmer over low heat until the syrup is slightly reduced and thickened, about 10 minutes.
The syrup is now ready to serve, or it can be cooled and stored in a container in the refrigerator for up to 10 days. Reheat over low heat or in the microwave.
Copyright © 2022 The Culinary Institute of America