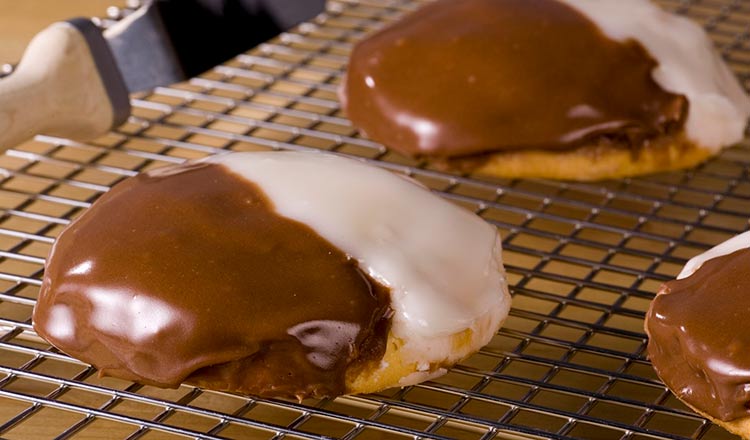 Make about 2 dozen cookies
Ingredients
1/2 cup (1 stick) unsalted butter 1 cup sugar 1/4 teaspoon kosher salt 3 eggs 1/2 teaspoon pure vanilla extract 1/4 cup sour cream 1 1/4 cups all-purpose flour 1/2 teaspoon baking powder

Vanilla Glaze
Ingredients
1 1/4 cups confectioners' sugar, sifted 2 tablespoons light corn… Make about 2 dozen cookies
Vanilla Glaze
Chocolate Glaze
Ingredients
1/2 cup (1 stick) unsalted butter
1 cup sugar
1/4 teaspoon kosher salt
3 eggs
1/2 teaspoon pure vanilla extract
1/4 cup sour cream
1 1/4 cups all-purpose flour
1/2 teaspoon baking powder
Ingredients
1 1/4 cups confectioners' sugar, sifted
2 tablespoons light corn syrup
1 tablespoon milk
1/4 teaspoon pure vanilla extract
Ingredients
1 1/4 cups confectioners' sugar, sifted
2 tablespoons light corn syrup
1 tablespoon milk
1 tablespoon water
1/4 teaspoon pure vanilla extract
1/4 cup cocoa powder
Directions
Preheat the oven to 400°F. Line two baking sheets with parchment paper.
In the bowl of a stand mixer fitted with the paddle attachment, cream the butter, sugar, and salt on medium speed until light and fluffy, 3 to 4 minutes.
Add the eggs one at a time, scraping down the bowl after each addition. Add the vanilla and sour cream and mix to combine.
In a medium bowl, combine the flour and baking powder. Slowly add to the creamed mixture, mixing on low speed just until combined. Scrape down the bowl as needed.
Scoop the dough onto the prepared baking sheets using a #40 scoop (about 2 tablespoons) about 1 1/2 inches apart.
Bake until just golden around the edges, 8 to 10 minutes. Rotate and switch the baking sheets as necessary for even baking.
Allow the cookies to cool for a minute on the baking sheets then transfer, using a spatula, to a cooling rack and allow to cool completely.
While the cookies are cooling, make the vanilla glaze: In a small bowl, combine the confectioners' sugar, corn syrup, milk, and vanilla. In another small bowl, make the chocolate glaze: Combine the confectioners' sugar, corn syrup, milk, water, vanilla, and cocoa.
Using a spatula, spread half of the top of each cookie with the vanilla glaze. Let sit for 10 minutes to level and set slightly.
Spread the chocolate glaze on the other half of the cookie tops, to the edge of the vanilla glaze. Let sit to level and for the glaze to become firm.
Store the cookies in an airtight container.
Copyright © 2022 The Culinary Institute of America