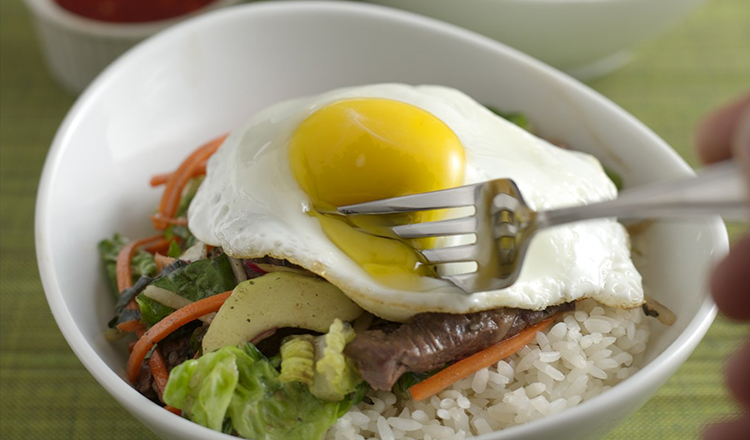 Makes 4 servings
Ingredients
1/4 cup Korean soy sauce 2 teaspoons sugar 1/4 minced scallions 1 tablespoons minced garlic 2 teaspoons minced ginger 2 teaspoons ground toasted sesame seeds Few drops dark sesame oil, as needed Freshly ground black pepper, as needed 1 lb beef skirt steak, cut into strips 1/4 cup peanut or… Makes 4 servings
Chef's Note: Shiso is in the mint family. If you can't find shiso leaves in your area, you can substitute peppermint leaves, lemon basil or Thai basil.  These will all provide a pleasant flavor; however, it won't be quite the same.
Ingredients
1/4 cup Korean soy sauce
2 teaspoons sugar
1/4 minced scallions
1 tablespoons minced garlic
2 teaspoons minced ginger
2 teaspoons ground toasted sesame seeds
Few drops dark sesame oil, as needed
Freshly ground black pepper, as needed
1 lb beef skirt steak, cut into strips
1/4 cup peanut or canola oil, as needed
2 cups steamed medium-grain rice
2 cups Napa cabbage chiffonade
1 cup julienned or grated red radish
1 cup julienned or grated daikon
1 cup julienned or grated carrot
1 cup julienned or grated seedless cucumber
4 shiso leaves, cut into fine shreds (optional)
4 large eggs
2 tablespoons Korean red pepper paste (gochujang), or as needed
Directions
Combine the soy sauce and sugar in a bowl. Add the scallions, garlic, ginger, and sesame seeds. Add the sesame oil and pepper to taste. Add the skirt steak and toss until evenly coated. Cover, refrigerate, and let the steak marinate for at least 1 and up to 8 hours.
Heat 2 tablespoons oil in a wok over high heat until it is nearly smoking. Add the beef strips to the hot oil and stir-fry until the beef is cooked, about 4 minutes. Transfer to a bowl and keep warm.
Divide the rice evenly among 4 bowls. Top the rice with the cabbage. Toss together the red radish, daikon, carrot, cucumber, and shiso leaves. Divide the vegetables evenly among the bowls. Top the vegetables with the skirt steak and season each serving with a few drops of dark sesame oil.
Wipe out the wok and return it to the burner. Add 1 tablespoon oil to the wok and heat over medium heat until the oil ripples. Add the eggs to the hot oil one at a time and fry, basting the top with a little oil, until the whites are set and the yolk is hot, 2 to 3 minutes. Top each serving with a fried egg and serve at once, accompanied by the Korean red pepper paste.
Copyright © 2022 The Culinary Institute of America