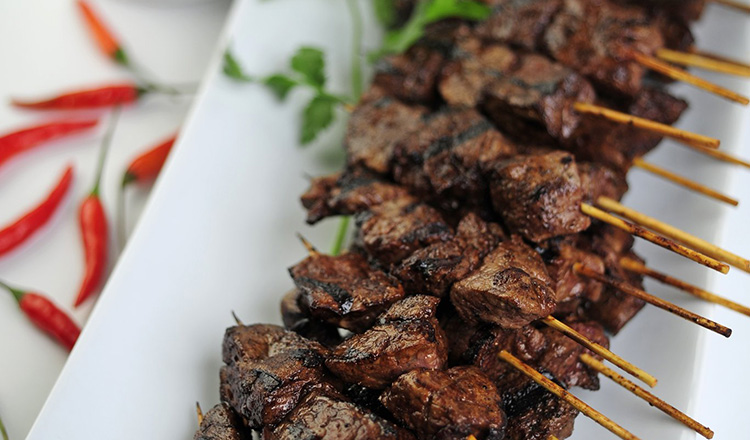 Makes 8 servings Beef Skewers
Ingredients
8 (8-inch) bamboo skewers 3 lb beef sirloin, cut into 1/2-inch cubes 1/4 cup light soy sauce, not low-sodium 1 tablespoon finely chopped palm sugar 6 cilantro roots, finely chopped (see note) 2 tablespoons coriander seeds 1 tablespoon white peppercorns 1 tablespoon minced galangal or ginger 4 stalks… Makes 8 servings
Beef Skewers
Green Chile Sauce
Chef's Note: Cilantro roots, popular in Thai cooking, can be found at most Asian markets (you might see them labeled as coriander stems). Different from cilantro stems, they are the flavorful root of the plant. If you cannot find the roots, substitute about 10 stems, finely chopped.
gluten free // no gluten // dairy free // nondairy // allergy friendly // asian // southeast asian // spicy // grilling // skewers // kabobs 
Ingredients
8 (8-inch) bamboo skewers
3 lb beef sirloin, cut into 1/2-inch cubes
1/4 cup light soy sauce, not low-sodium
1 tablespoon finely chopped palm sugar
6 cilantro roots, finely chopped (see note)
2 tablespoons coriander seeds
1 tablespoon white peppercorns
1 tablespoon minced galangal or ginger
4 stalks lemongrass, minced
Ingredients
2 tablespoons minced Thai bird chiles
1 tablespoon sliced garlic
Kosher salt, as needed
1 tablespoon finely chopped palm sugar or brown sugar
1/2 cup coarsely chopped cilantro
2 tablespoons fish sauce, gluten-free, if needed
2 tablespoons lime juice
Directions
Soak the bamboo skewers in water for at least 30 minutes.
In a bowl or zip-top bag, mix the beef with the soy sauce and palm sugar. Cover and refrigerate for at least 2 hours.
Using a mortar and pestle, pound the cilantro roots, coriander seeds, white peppercorns, galangal, and lemongrass into a coarse paste. Alternately, combine the ingredients in a small food processor.
Skewer the meat, rub with the paste, and refrigerate while you prepare the chile sauce.
For the chile sauce, pound the chiles, garlic, salt, palm sugar, and cilantro in a mortar and pestle. Add the fish sauce and lime juice. Alternately, combine the ingredients in a small food processor. Adjust seasoning and set aside.
Prepare a grill for high heat cooking. Grill the beef skewers, turning occasionally, until cooked through, 3 to 4 minutes.
Serve each skewer on a plate with the green chili sauce on the side.
Copyright © 2022 The Culinary Institute of America