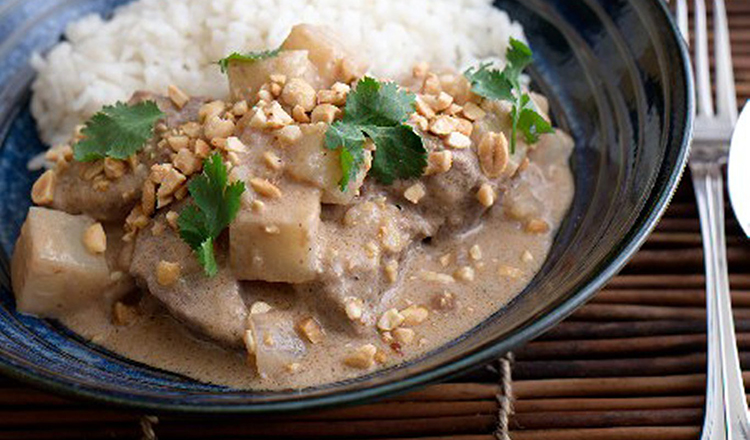 Makes 4 to 6 servings Massaman curry is the mildest of the Thai curries, but it is often very rich, with the flavors or cardamom, cinnamon, and cumin. You can find massaman curry paste at most Asian markets, but in pinch, you can replace it with easier-to-find red curry paste. While you're at the market,… Makes 4 to 6 servings
Massaman curry is the mildest of the Thai curries, but it is often very rich, with the flavors or cardamom, cinnamon, and cumin. You can find massaman curry paste at most Asian markets, but in pinch, you can replace it with easier-to-find red curry paste. While you're at the market, you can also find the palm sugar and tamarind pulp, which is usually frozen.
southeast asian // stew // braise // hearty // comfort food // dairy-free // nondairy // lactose free 
Ingredients
5 cups coconut milk
2 lb boneless beef chuck, cut in 2-inch chunks
1/3 cup Massaman curry paste
4 cups large-dice potatoes
3 tablespoons fish sauce (gluten-free, if needed), plus more as needed
3 tablespoons tamarind pulp
2 tablespoons palm sugar or brown sugar, plus more as needed
6 cinnamon sticks
1 teaspoon ground cardamom
3/4 cup large-dice yellow onion
1/2 cup pan-roasted peanuts
2 teaspoon lime juice or as needed
Directions
Heat the coconut milk in a large saucepot over medium heat until it comes to a gentle boil, about 10 minutes. Skim off any cream that rises to the surface and transfer it to a small, heavy bottomed saucepan or skillet.
Add the beef chunks to the coconut milk in the saucepot and continue to simmer until the beef is tender, about 1 hour.
Bring the coconut cream to a gentle boil over medium heat. Adjust the heat to maintain a gentle boil and cook, stirring occasionally, until the coconut cream becomes thick and fragrant and tiny pools of oil glisten on the surface, 6 to 8 minutes. Add the curry paste and stir to dissolve it in the coconut cream. Simmer the mixture until it has a rich aroma, 3 to 4 minutes.
Add the curry paste mixture to the beef and coconut milk; stir well. Add the potatoes, fish sauce, tamarind, palm sugar, cinnamon, and cardamom, and simmer until the potatoes are par-cooked, about 10 minutes. Add the onion and peanuts and simmer until the potatoes are tender, about 5 minutes more. Season to taste with additional fish sauce, palm sugar, and lime juice. It should have a pleasing, sweet, sour, and salty balance.
Copyright © 2022 The Culinary Institute of America