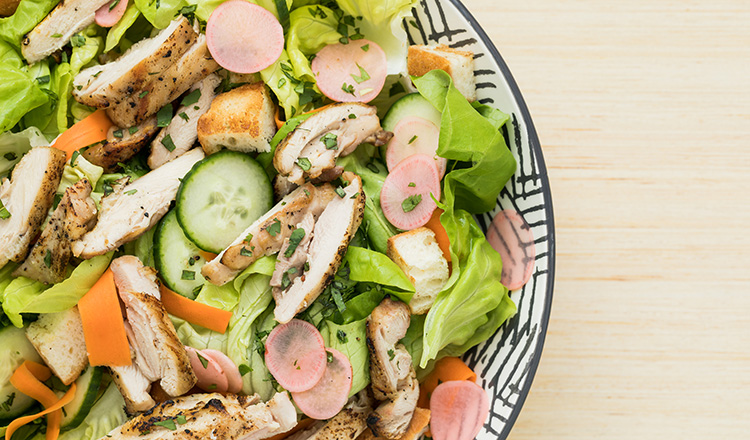 Makes 6 servings Banh mi is a ubiquitous Vietnamese sandwich that reflects the cuisine's French influence, with roasted pork, pork pâté, pickled vegetables, and lots and lots of herbs filling a baguette-style roll. This salad takes inspiration from the sandwich, with herby tender greens, pickled veggies, and crisp French bread croutons. We use grilled chicken… Makes 6 servings
Banh mi is a ubiquitous Vietnamese sandwich that reflects the cuisine's French influence, with roasted pork, pork pâté, pickled vegetables, and lots and lots of herbs filling a baguette-style roll. This salad takes inspiration from the sandwich, with herby tender greens, pickled veggies, and crisp French bread croutons. We use grilled chicken thighs here, but you can use pulled pork, crisp tofu, or grilled shrimp, if you prefer.
Vietnamese // fusion // Asian // allergy friendly // nut-free // dairy-free // herbs // brunch // mother's day // healthy-ish // light dinner // lunch 
Ingredients
2 carrots, cut into thin, wide strips with a vegetable peeler
3 radishes, very thinly sliced
1/2 jalapeño, thinly sliced, seeds removed, if desired
1/2 cup seasoned rice wine vinegar
1 cup water
1/2 teaspoon kosher salt, plus more as needed
5 boneless, skinless chicken thighs
Freshly ground black pepper, to taste
1 teaspoon fish sauce
1 clove garlic, minced
1/4 cup vegetable oil
2 heads Bibb lettuce, torn into bite-size pieces
1/4 cup basil, chopped
1/4 cup cilantro, chopped
1/4 cup mint, chopped
1 seedless cucumber, thinly sliced
1 cup fresh French bread croutons (optional)
Directions
In a jar, combine the carrots, radishes, jalapeño, vinegar, water, and salt. Cover and shake to combine. Refrigerate for at least an hour to pickle.
Meanwhile, prepare a grill for medium-high heat cooking and lightly brush with oil. Season the chicken with salt and pepper and grill until cooked through and lightly charred, about 6 minutes per side. Set aside to rest.
In a small bowl, combine 1/4 cup of the vegetable pickling liquid with the fish sauce, garlic, and vegetable oil to make a vinaigrette. Thinly slice the chicken thighs.
In a large serving bowl, combine the lettuce, basil, cilantro, mint, cucumber, pickled vegetables, sliced chicken, and croutons, if using. Drizzle with vinaigrette (you may not use it all), and toss to combine. Serve right away.
Copyright © 2022 The Culinary Institute of America