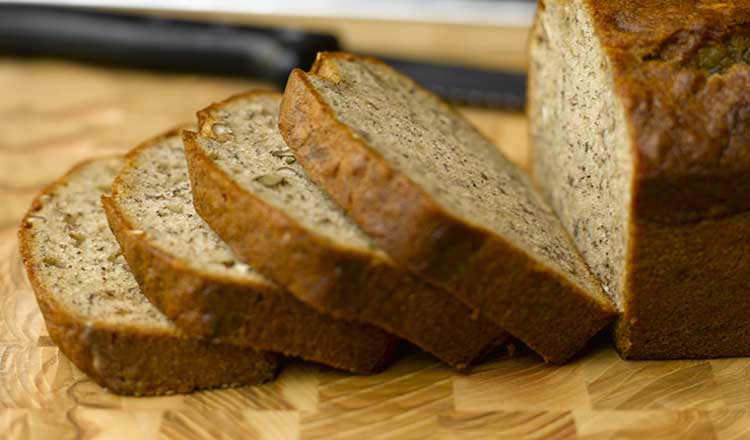 Makes 2 Loaves
Ingredients
6 bananas, very ripe 1/4 lemon, peeled or 1 tsp lemon juice 3 1/4 cups all-purpose flour 1/2 tsp baking powder 1 1/4 tsp baking soda 1/2 tsp salt 2 cups sugar 2 large eggs 1/2 cup vegetable oil 3/4 cup chopped toasted pecans
Directions
Preheat the oven… Ingredients
6 bananas, very ripe
1/4 lemon, peeled or 1 tsp lemon juice
3 1/4 cups all-purpose flour
1/2 tsp baking powder
1 1/4 tsp baking soda
1/2 tsp salt
2 cups sugar
2 large eggs
1/2 cup vegetable oil
3/4 cup chopped toasted pecans
Directions
Preheat the oven to 350 degrees F. Prepare two 8-inch loaf pans by spraying lightly with cooking spray or rubbing with softened butter.
Place the bananas, lemon, sugar, eggs, and oil into a blender and secure the lid. Blend for 30 seconds or until smooth.
Sift together flour, baking powder, baking soda and salt in a medium mixing bowl. Set aside.
 Pour wet mixture into dry mixture and fold in pecans just until combined.
Divide batter evenly between the loaf pans. Gently tap the filled pans to burst any air bubbles. Bake until the bread springs back when pressed and a tester inserted near the center comes out clean, about 55 minutes.
Cool the loaves in the pans for a few minutes, then remove the bread from the pans, transfer to cooling racks, and cool completely before slicing and serving or wrapping. They can be held at room temperature for up to 3 days or frozen for up to 6 weeks.
Copyright © 2022 The Culinary Institute of America