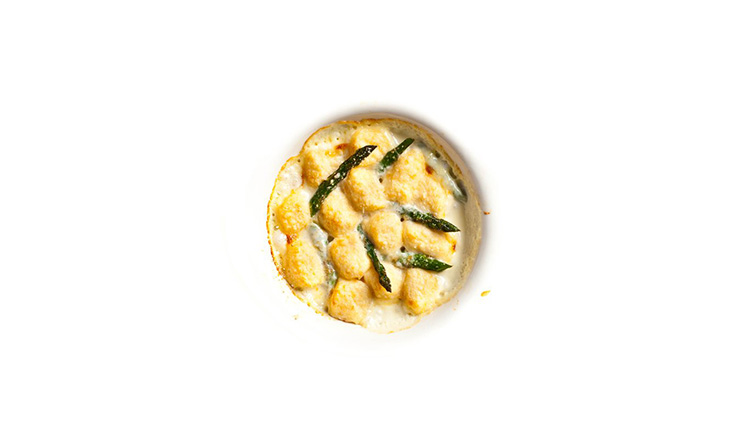 Makes 6 servings
Ingredients
1 cup whole milk 3 oz (6 tbsp) unsalted butter, plus more as needed for baking dish Kosher salt, as needed Pinch of freshly grated nutmeg (optional) 3/4 cup all-purpose flour 8 oz smoked salmon, processed to a paste 3 large eggs 18 asparagus spears (about 1 lb), trimmed, peeled,… Ingredients
1 cup whole milk
3 oz (6 tbsp) unsalted butter, plus more as needed for baking dish
Kosher salt, as needed
Pinch of freshly grated nutmeg (optional)
3/4 cup all-purpose flour
8 oz smoked salmon, processed to a paste
3 large eggs
18 asparagus spears (about 1 lb), trimmed, peeled, and blanched
2/3 cup grated Parmigiano-Reggiano
1 cup heavy cream, or as needed
Directions
Heat the milk, 1/4 cup of the butter, salt to taste, and a few grains of nutmeg in a heavy sauce pot over medium heat. Slowly add the flour, making sure you are whisking continuously. Let simmer gently, stirring with a wooden spoon, until the mixture is very thick and pulls away from the sides of the pot, 3 to 5 minutes. Transfer to a bowl and stir in the salmon paste. Add the eggs, one at a time, stirring to incorporate each one well before adding the next.
To shape the gnocchi: Transfer the dough into a pastry bag fitted with a 1/2-inch plain tip. Pipe gnocchi directly over a pot of salted boiling water, cutting the dough into ¾-inch-long pieces while piping. As soon as the gnocchi rise to the top, lift them from the pot and transfer them to a bowl of ice water. Once they are thoroughly chilled, transfer them to paper towels to drain and blot dry.
Preheat the oven to 375°F and generously butter a baking dish.
Add the asparagus to the buttered baking dish in a single layer and sprinkle with the cheese. Add the gnocchi in a single layer; do not place them too close to each other as they will double in size as they bake. Pour enough cream into the dish to cover the asparagus by half. Bake until the gnocchi have doubled in size and the cream has reduced into a thick sauce, about 15 minutes. Serve at once, directly from the baking dish on heated plates.
Copyright © 2022 The Culinary Institute of America