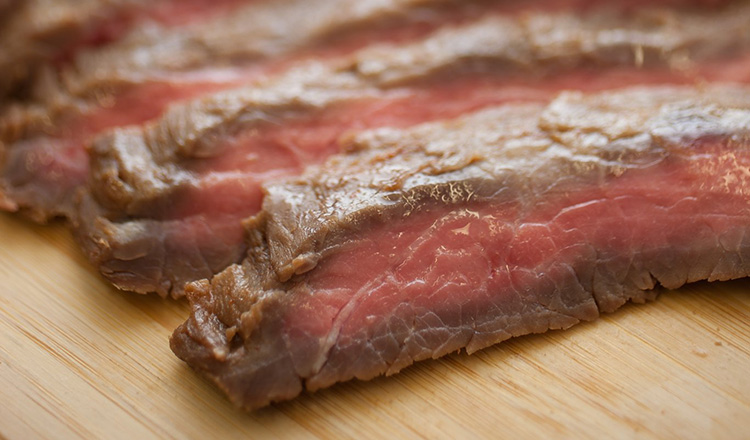 Makes 6 servings
Ingredients
2 flank steaks (3 to 3 1/2 lb total) 1/2 cup soy sauce 1/4 cup honey 1/4 cup mirin 2 tablespoons dark sesame oil 1 teaspoon Sriracha sauce
Directions
Trim any excess fat from the flank steak. To make the marinade: Combine the soy sauce, honey, mirin, sesame… Ingredients
2 flank steaks (3 to 3 1/2 lb total)
1/2 cup soy sauce
1/4 cup honey
1/4 cup mirin
2 tablespoons dark sesame oil
1 teaspoon Sriracha sauce
Directions
Trim any excess fat from the flank steak.
To make the marinade: Combine the soy sauce, honey, mirin, sesame oil, and Sriracha in a zip-top plastic bag. Add the flank steaks to the bag and seal tightly, squeezing out as much air as possible. If you have a vacuum sealer, place the ingredients in vacuum-sealable bag, vacuum, and seal. Place the bag in the refrigerator overnight or for up to 24 hours to marinate.
Remove the flank steaks from the bag, drain off and reserve the excess marinade, and reserve the steaks at room temperature.
Transfer the marinade to a small saucepan and bring to a boil over high heat. Reduce the heat and allow the marinade to simmer until it has reduced by about one-third, about 5 minutes. Remove from the heat and allow to cool.
Meanwhile, prepare the smoker, charcoal grill, or gas grill, or preheat the oven. If using a smoker or grill, bring the temperature to 250°F, fill the water pan, and develop a light smoke. It's important that the temperature stays in the 225° to 250°F range with a small amount of light smoke escaping. If using the oven method, preheat the oven to 250°F.
Baste the flank steaks with the marinade and place them into the cooking unit. This will cool the unit so it may require some time and adjustments to bring the temperature back to the 225° to 250°F range. Cook, basting the steaks with the marinade every 20 minutes, until the steaks reach an internal temperature of 130°F for medium-rare, 1 to 1 1/2 hours. Remove the flank steaks from the cooking unit, and let rest for 20 minutes to allow the juices to redistribute before slicing. If you would like a deeper color, place the flank steaks into a 450°F oven for 5 minutes once they are removed from the cooking unit.
Cut the steaks against the grain into slices, 1/4-inch or thinner, and serve.
Copyright © 2022 The Culinary Institute of America