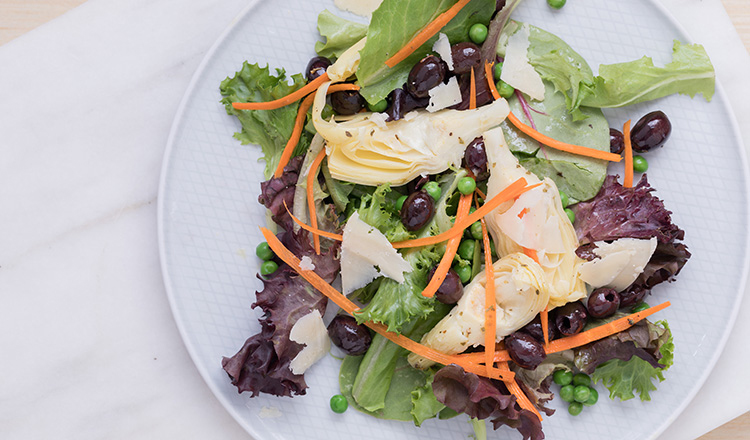 Makes 4 to 6 servings
Ingredients
1 teaspoon anchovy paste 1/2 teaspoon arrowroot 1/3 cup vegetable broth 3 tablespoons red wine vinegar 3 tablespoons extra-virgin olive oil 1/4 teaspoons dried oregano 1/4 teaspoons ground black pepper 1 cup artichoke hearts (cooked if fresh, thawed if frozen), quartered 1/2 cup peas, cooked if fresh, thawed… Ingredients
1 teaspoon anchovy paste
1/2 teaspoon arrowroot
1/3 cup vegetable broth
3 tablespoons red wine vinegar
3 tablespoons extra-virgin olive oil
1/4 teaspoons dried oregano
1/4 teaspoons ground black pepper
1 cup artichoke hearts (cooked if fresh, thawed if frozen), quartered
1/2 cup peas, cooked if fresh, thawed if frozen
1/3 cup carrot julienne
1/4 cup picholine olives, pitted and cut into slivers
1/4 cup niçoise olives, pitted and cut into slivers
3 cups mesclun greens, washed and dried (about 6 oz)
2 tablespoons grated Asiago cheese
1 tablespoon chopped parsley
Directions
Blend the anchovy paste, arrowroot, and 1 tablespoon of the broth together in a small bowl. Bring the remaining broth to a boil in a small saucepan and add the anchovy mixture, stirring constantly until thickened. Remove from the heat, stir in the vinegar, and cool completely. Gradually whisk in the oil. Stir in the oregano and pepper.
Combine the artichoke hearts, peas, carrot, and olives in a bowl. Stir in the dressing, cover, and marinate for 1 hour.
Divide the greens and arrange as a bed on four chilled salad plates. Mound the artichoke mixture in the center or the greens and garnish with the cheese and parsley. Serve immediately.
Copyright © 2022 The Culinary Institute of America