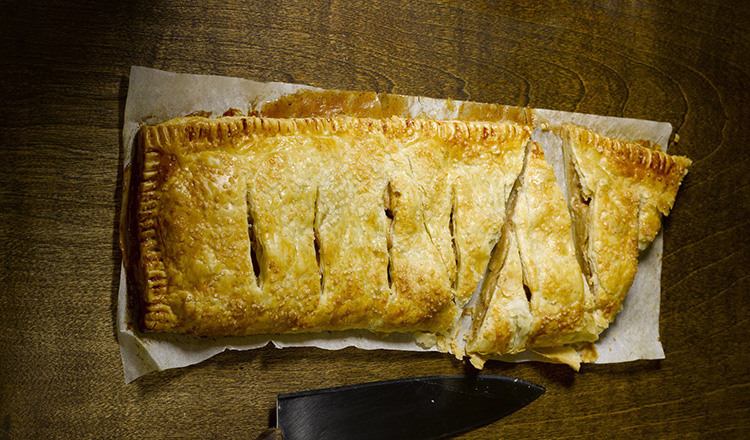 Makes one, 5 1/2 by 17-inch slab pie
Ingredients
2 lb Golden Delicious apples, peeled and cut into 1/4-inch slices 2 teaspoons fresh lemon juice 1 cup granulated sugar 3 tablespoon all-purpose flour 1 teaspoon vanilla extract 1 teaspoon ground cinnamon 1/8 teaspoon freshly grated nutmeg Egg wash, as needed Sanding or granulated sugar,… Makes one, 5 1/2 by 17-inch slab pie
Chef's Note: If desired, make a vanilla icing glaze by combining 1/2 cup confectioners' sugar, 1/2 tsp vanilla extract, and 2 tablespoons milk in a bowl. Mix until smooth, adding additional milk 1 tablespoon at a time, if needed, to make a smooth, fluid glaze. Drizzle over the cooled pie with a fork. The glaze will set in 1 to 2 hours.
Ingredients
2 lb Golden Delicious apples, peeled and cut into 1/4-inch slices
2 teaspoons fresh lemon juice
1 cup granulated sugar
3 tablespoon all-purpose flour
1 teaspoon vanilla extract
1 teaspoon ground cinnamon
1/8 teaspoon freshly grated nutmeg
Egg wash, as needed
Sanding or granulated sugar, as needed
All-Butter Pie Dough, double crust
Directions
Preheat the oven to 375°F and set the rack in the lowest position.
Dust a 13 by 18-inch sheet of parchment paper with flour. On the parchment paper, roll out the dough to 1/8-inch thick. Using a pastry wheel, trim the dough to 10 by 17 inches. Slide the parchment paper with the dough onto a rimmed baking sheet and refrigerate for 30 minutes, or until firm.
In a medium bowl, combine the apples, lemon juice, granulated sugar, flour, vanilla, cinnamon, and nutmeg. Toss to combine. Immediately layer the apples over half of the chilled pie dough lengthwise, leaving a 1/2-inch border on three sides. Arrange and press the apples gently to eliminate gaps and air pockets. Brush the 1/2-inch border lightly with water and fold the top half over the filling, pressing the edges to seal. Using the tines of a fork, gently press and crimp the edges.
Brush the top crust with egg wash. Using a paring knife, cut 6 or 7 vents in the top crust at 2- to 3-inch intervals. Sprinkle the top crust liberally with sanding or granulated sugar.
Bake until the filling is bubbly and thick, 45 to 50 minutes. Remove the pie from the oven and place it on a cooling rack. Let cool for 2 to 3 hours. The filling will continue to thicken and set as the pie cools.
Copyright © 2022 The Culinary Institute of America