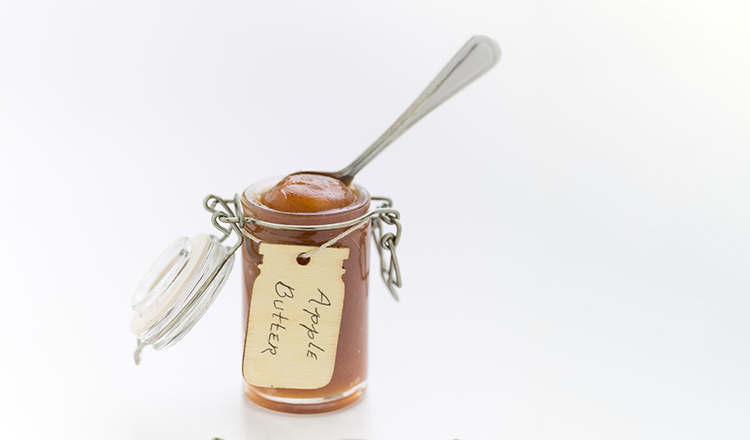 Makes about 2 pints
Ingredients
5 pounds apples, peeled, cored, and diced 1 3/4 cups apple cider 1 1/4 cups sugar 2 tablespoons lemon juice Pinch of salt 1/2 teaspoon ground cinnamon 1/4 teaspoon ground mace 1/4 teaspoon ground nutmeg
Directions
In a large pot, bring the apples and cider to a… Ingredients
5 pounds apples, peeled, cored, and diced
1 3/4 cups apple cider
1 1/4 cups sugar
2 tablespoons lemon juice
Pinch of salt
1/2 teaspoon ground cinnamon
1/4 teaspoon ground mace
1/4 teaspoon ground nutmeg
Directions
In a large pot, bring the apples and cider to a boil over medium-high heat, stirring occasionally to prevent sticking or burning.
Reduce the heat to low and simmer until the apples are soft, 30 to 35 minutes. Use a potato masher, fork, or immersion blender to roughly mash the mixture.
Return the apple mixture to the heat, and stir in the sugar, lemon juice, salt, cinnamon, mace, and nutmeg.
Continue to simmer until the mixture has thickened and becomes a deep rich brown, about 1 1/2 hours. The mixture will be relatively smooth, but may have a few chunks. If you want a completely smooth butter, you may purée it lightly at this point.
Store the apple butter in a covered container in the refrigerator, or pour the finished apple butter into prepared jars, leaving 1/4 inch of headspace. Seal the jars and process for 7 to 10 minutes in a boiling-water canner. Store the processed jars in a cool, dark place.
Copyright © 2022 The Culinary Institute of America