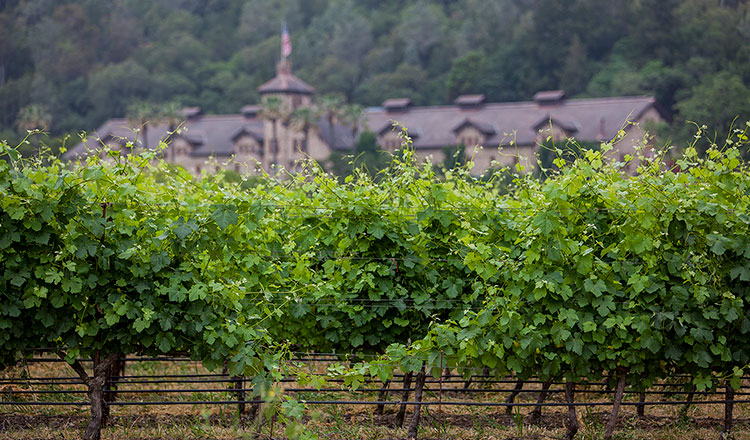 Unless you are fortunate enough to live in Northern California, visiting Napa Valley is a true vacation. No matter the time of year, you'll find extraordinary farmers' markets, exciting food and wine events, and restaurants making the most of their neighboring farmlands. The abundance of distilleries, breweries, and yes, wine, make the region a definite bucket list destination. The CIA is lucky enough to have two exciting locations in the Napa Valley—our California flagship campus, the CIA at Greystone in St. Helena, and our foodie wonderland, The CIA at Copia in Napa. Here's a look at our location in St. Helena.
The college's second campus (our first is in Hyde Park, NY) resides in the historic former Christian Brothers Winery in St. Helena. Infused with the spirit of wine and great food, our Greystone campus is an idyllic setting for students studying toward their degrees in culinary and baking and pastry arts. Of course, it is easy to catch Napa fever, so many students flock to this campus for certificates and advanced Master's degree programs in wine and beverage specialties.
And though the campus is home to many happy students, we have plenty of space (and wine!) to share! It is easy to spend a day or more on the Greystone campus enjoying a stroll through the gardens, a browse through the historic Barrel Room to learn about the history of the Napa Valley wine industry, and of course, a visit to the Gatehouse Restaurant, a true farm-to-table experience. You may even spot a bride and groom sharing a special day with their loved ones!
Since we know our visitors love food as much as we do, there are lots of opportunities to tie on an apron and get your hands, well, dirty. Whether you stay for an afternoon class or a week-long Boot Camp, our Food Enthusiast programs are designed to teach you about baking and pastry, cuisines from around the world, and, you guessed it, wine!
At our second Napa Valley location, The CIA at Copia, we are totally devoted to creating exciting experiences for food and wine lovers. From our 3D dining adventure and hands-on classes in the spectacular new kitchen to our amazing culinary arts museum and restaurant, we have something for everyone! But all this is just the tip of the iceberg. In next month's Let's Dish newsletter, we'll share the full range of foodie delights to be found at Copia.