Any country that is shaped like a running chicken must be a great destination for food enthusiasts. Slovenia, with a rich and complicated past—often in the shadow of powerful empires—along with its dramatically varied geography and climatic patterns, makes it a great study for food historians. My area of research centers on food, culture, and history. When I first travelled to Slovenia in 2011, my partner and I ate at a seafood restaurant in Ljubljana where the menu offered a side of "sauce" for €0.50. When we inquired about the sauce our waiter looked at us confused, and responded with a shrug. "It is sauce," as if the answer could not be more obvious.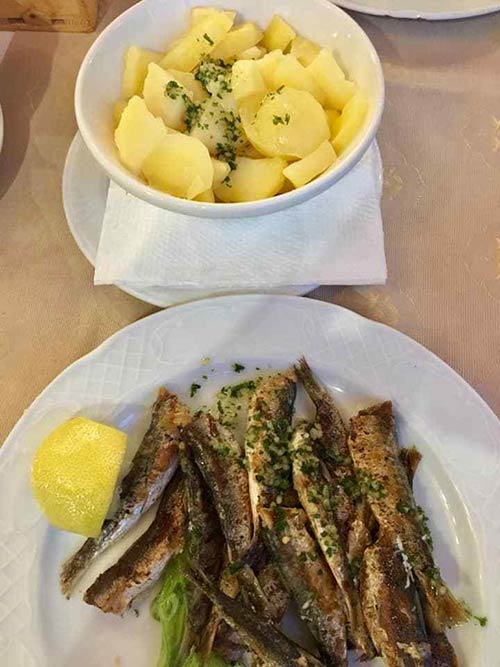 We later found out that, for those
not
in the know, it was tržaška omaka (garlic, parsley, olive oil, salt) whose name comes from the currently Italian, formerly Hapsburgian, port of Trieste. This incident inspired me to edit a forthcoming volume on the cultural role of sauce and identity. Through this one example, one can see the influence of the past, and of shifting political borders and food culture, which often does not abide so fiercely to these imposed borders. Slovenia, largely populated by ethnic Southern Slavic people, was controlled by the Roman Empire, the Byzantine Empire, the Venetian Republic (including the aforementioned Trieste), and the Austro-Hungarian Empire at various points in history. It was occupied by Napoleon and Nazi Germany and became part of Yugoslavia during its existence (established in 1918) before becoming its own independent nation-state in 1991. The country and its foodways bears witness to its past and continues to be influenced by its current neighbors. Slovenia sits sandwiched between Italy, Austria, Hungary, and Croatia. As such, pizza, schnitzels, strudels, and goulash can be found throughout the country.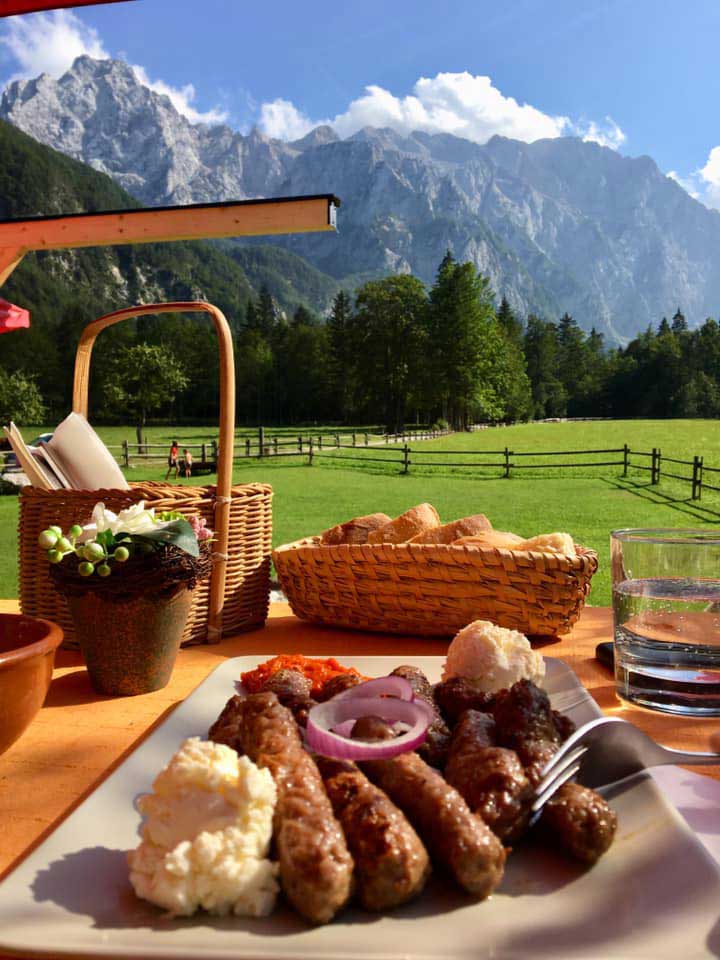 Equally present are Balkan sausages, especially the iconic cevapčiči (or cevapi for short), which is a blend of beef and pork from Orthodox or Catholic majorities (Serbia and Croatia), or beef and lamb from Muslim-dominated Bosnia. The grilled sausages are served with lepina bread (a particularly fluffy type of pita), ajvar (roasted red pepper and eggplant spread), kajmak (a thick, buttery cream cheese), and raw chopped onion. More entrenched than the geopolitical borders are the geographic zones that more intimately influence the food and drink of Slovenia. About the size of Connecticut, you can be skiing in the Julian Alps in the morning and suntanning on the shores of the Adriatic in the afternoon.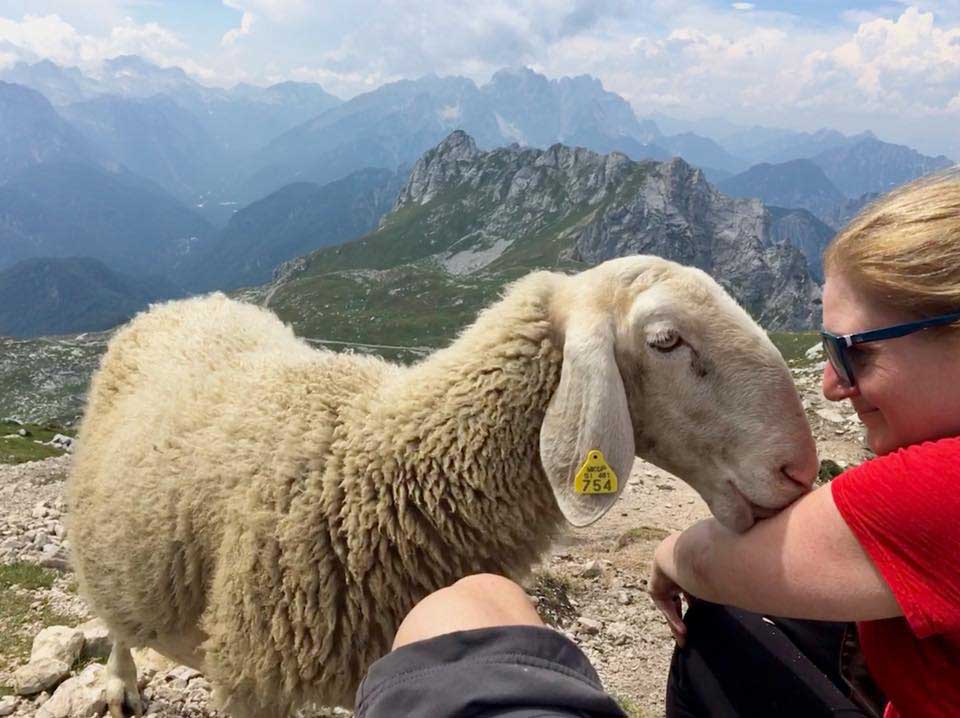 As such, the Alpine cuisine embodies hearty stews and soups, including jota, a sour mixture of sauerkraut, kidney beans and smoked sausages, or ričet, a barley, bean, and vegetable stew with pork. Mountain huts offer the seamless blend between the wild and the cultured lunches for hikers, often with gardens and a few cows, cured meats and cheese, foraged mushroom, Soča River marble trout, and local honey. Michelin-starred Chef Ana Roš, along with her husband Valter, are owners of
Hiša Franko
(portraited in
Netflix's Chef's Table
, Season 2, Episode 5) which also highlights such local ingredients in refined dishes such as bread made with spent grains and fermented apple peels, roasted roebuck with spruce and wild mushrooms, and a dessert of peaches, sweet woodruff, milk crumble, and local saffron (2019 August menu).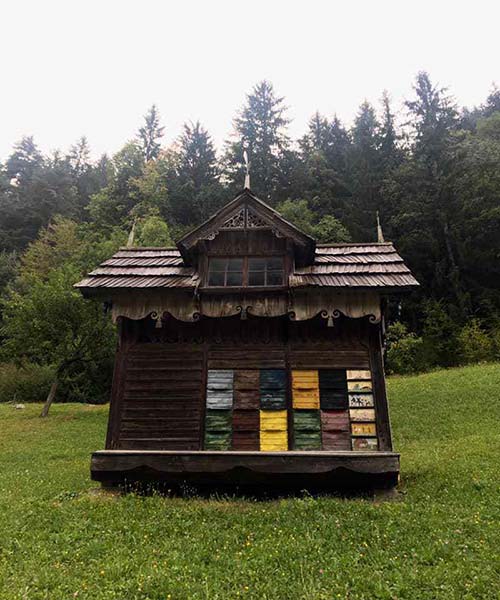 You can also live history, as Ernest Hemingway also took refuge at Hiša Franko during WWI, located in the valley in which the Italians faced the German and Austro-Hungarian armies during the Battle of the Isonzo. While the despair is apparent in his
A Farewell to Arms
, Hemingway would have probably been more pleased with the local tipple, with various types of palinka (fruit brandy) with the sweeter slivovitz (damson plums), borovničevec (wild blueberries), and medica (honey) to the acerbic rušovc (pine). Most family-run hotels and B&Bs offer custom blend čaj (pronounced "chai"), made from herbs and plants that are gathered just steps from the kitchen. Alternatively, along the Gulf of Trieste, Slovenia's mere 29 miles of coastline finds seafood and fish dominated with Adriatic flavors and vegetables of tomato, zucchini, garlic, and olive oil. At the southernmost point lies the Sečovlji Salt Pans, which according to documents, have been producing salt in the salt pan method since the 13
th
century and are now part of
Sečovlji Salina Landscape Park
. If you visit, be sure to bring your passport, as part of the park is located in Croatia. Between the mountains and the ocean lie the valleys and littoral regions of wine that produce both well-known varietals but also some indigenous grapes, including the Kraški teran from the Primorska region. Within this region, one can find four smaller wine regions including my favorite, the Vipava Valley. There one finds the grapes that perhaps best illustrate Slovene wine: zelen and pinela. They are not only indigenous grapes but the former only grows within this valley due to the bora, a katabatic wind so strong that requires locals to put stones on their roofs.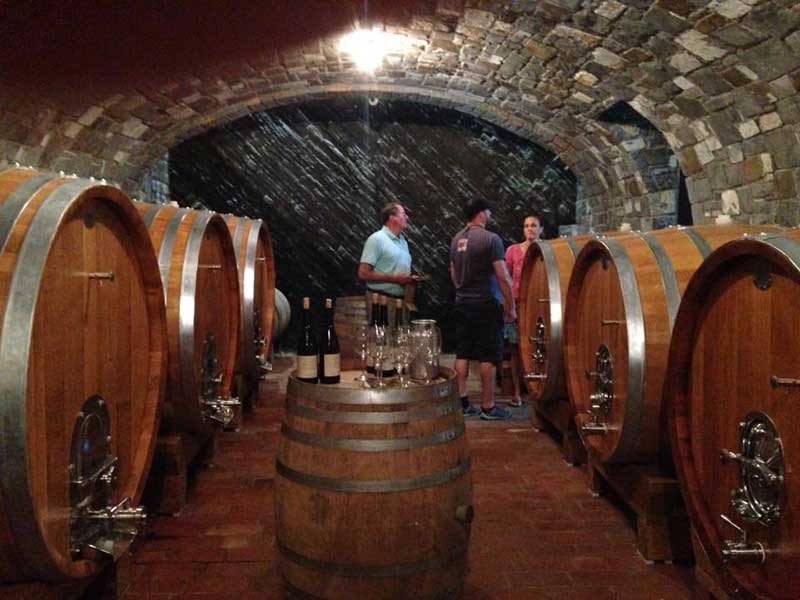 I'm partial to the zelen made by Primož Lavrenčič, of
Burja Estate
, globally known for his natural and biodynamic wines, and who traces his family back to the area in 1499. If you time your visit right, you may be there during one of the "osmica open doors" the eight (osmica) days a year when farmers and winemakers were allowed to sell their goods tax-free, beginning during the reign of Maria Teresa in the eighteenth century. For those who really want to experience history through the grape, a visit to Maribor, in the eastern part of the country boasts a 400-year old vine that has been continuously producing grapes that have been made into wine. Beer lovers, do not despair. In Žalec, instead of a water fountain in the town square, there is a beer fountain, built in part to celebrate the long history of cultivating lovely Styrian Golding hops and beer production in the area. While wine is still queen in Slovenia, there are more and more talented small-batch craft brewers producing beers usually highlighting local and natural ingredients. I would be remiss if I did not mention two additional examples of uniquely Slovenian foodways. First in the rolling northeast hills of the Štajerska and Prekmurje regions, one finds the intriguing Štarjersko prekmursko bučno olje, a dark green pumpkin oil with a mild taste and nutty aroma of slowly roasted Slovenian pumpkin seeds. Known as "green gold,' locals drizzle bučno olje on vegetables, fish, incorporated into dressings and soups, or even served on, or incorporated into, ice cream. It's as common of a table condiment as salt, pepper, and vinegar.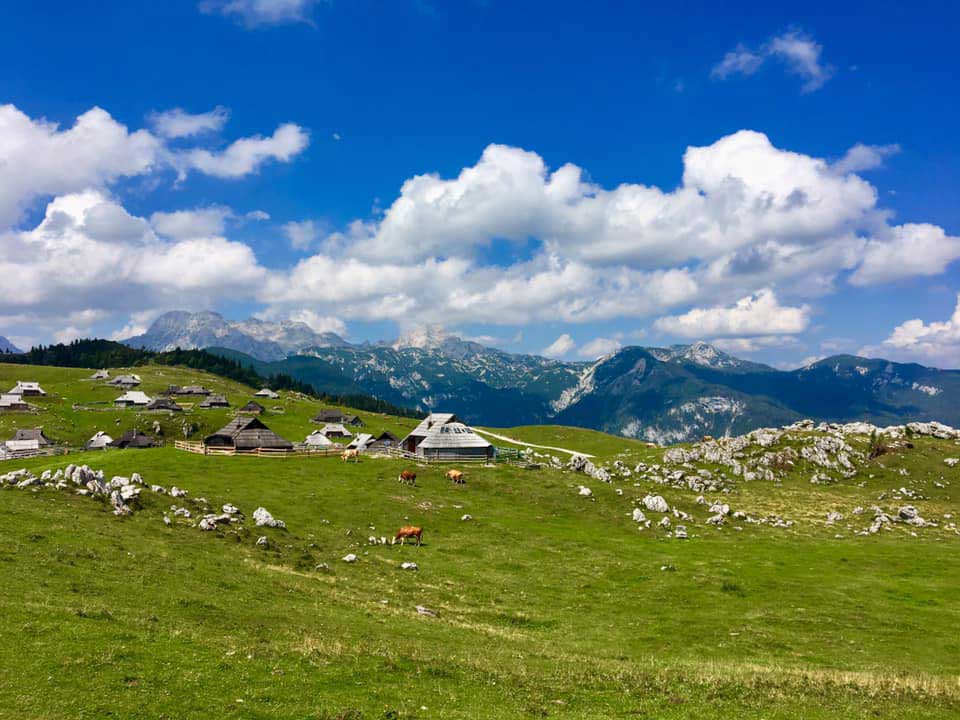 And finally, in what may be the best connection between food, history, and culture, just an hour's drive north of the capital Ljubljana one can visit what seems like another world: the Alpine pastures of the Velika Planina (big pasture). It is one of the world's largest and highest—at 4,900 feet above sea level— herdsmen's villages. Although the German occupiers of WWII burned all of the huts down, the huts were rebuilt based on the original 16
th
century design, and traditional Alpine herdsmen's culture still continues.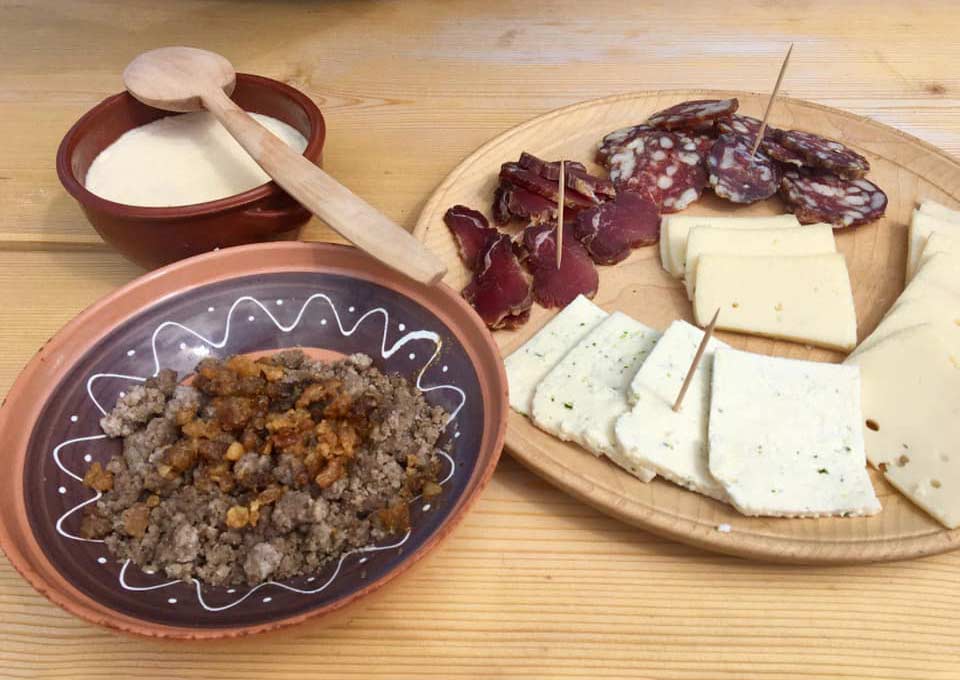 In addition to the beautifully scenic plateau with its stunning vistas, one also can enjoy traditional fare such as sour milk and žganci (a buckwheat porridge often served with pork cracklings), homemade cheeses, or rolled dumplings with cottage cheese called štruklji, while cows roam freely. When I first travelled to Slovenia 11 years ago, a guidebook that I read stated that there was nothing that you absolutely must see. While that may be the case, to understand the relationship among the Slovene people, their cultural history, and the land, one absolutely must taste.
---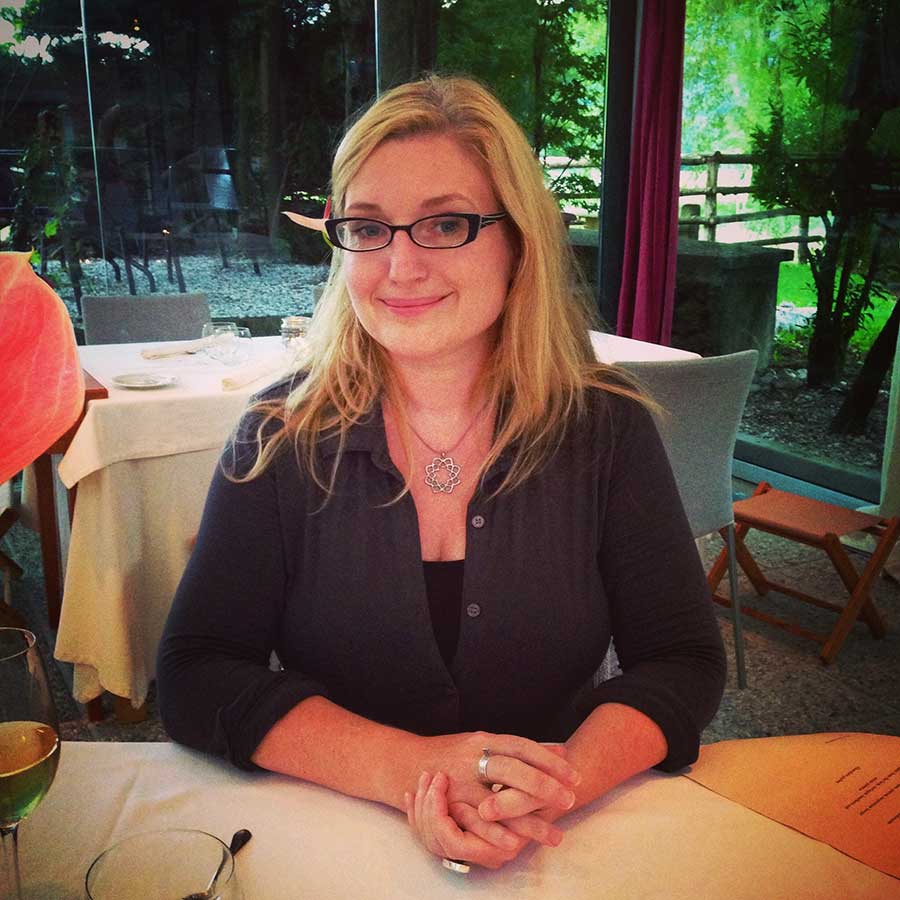 Beth Forrest, PhD., is professor of liberal arts and applied food studies at our New York campus. She is a historian who teaches world history, European history, and food history in addition to Introduction to Gastronomy and Introduction to Applied Food Studies.  She is the current president of the
Association for the Study of Food and Society
and, prior to that, she served as board secretary. Most recently, she co-edited
Food in Memory and Imagination: Space, Place, and Taste
(Bloomsbury, 2022), which includes her chapter that considers how Americans have imagined food and eating in hell. She has contributed to:
Space, Taste and Affect: Atmospheres that Shape the Way We Eat
(Routledge, 2021);
Food, Culture and Society
;
Food and Foodways
; and
Gastronomica
among others. Current research projects include an edited volume on the cultural role of sauce and identity (Oxford UP, 2023) and a chapbook on butter. For her sabbatical this fall, she plans on spending as much time as possible in Slovenia.