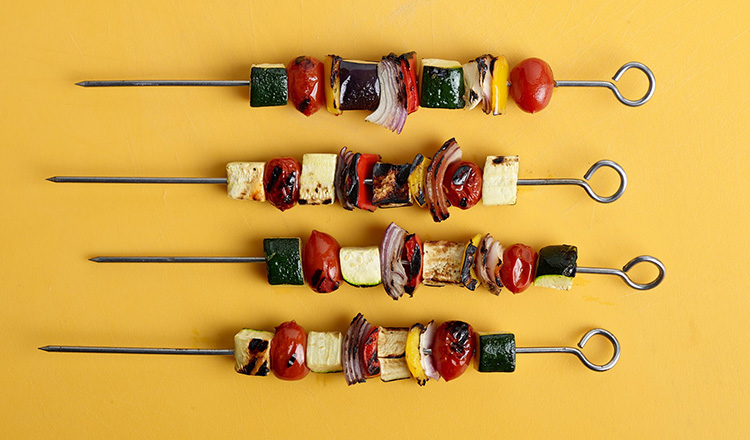 As the weather warms and our social bubbles slowly and safely expand, we plan to spend a lot of time in our backyards—and that means grilling season has come early!
Grilling can be as convenient or complicated as suits your mood, but for all spring and summer grilling, we generally aim for convenient. Sure, we like the occasional all-day low-and-slow smoking project, but the beauty of the grill is that it cooks food hot and fast without making a mess of the kitchen.
If grilling doesn't seem like a way to save yourself time and energy after a long day, that may mean that you're missing a few handy tools or techniques to make the most of your grill. Here are our five best tips for unfussy grilling, perfect for weeknight dinners or impromptu get-togethers.
Invest in an inexpensive set of metal skewers. Wooden skewers are great, but they require the plan-ahead step of pre-soaking in water. Having metal skewers on hand means you can toss any bite-size ingredient on the grill in a matter of minutes, from shrimp to cubed sweet potatoes.
Keep a jar of your favorite homemade (or store-bought!) salad dressing in the fridge. In a pinch, any salad dressing—especially vinaigrettes—can become a quick marinade. A 10-minute marinade adds more flavor than none at all, so even if you forget in the morning, give your ingredients a quick toss while you preheat the grill.
Remember that your cast iron and stainless-steel pots and pans can all go on the grill, so if your house is hot and stuffy, you can use your grill as an outdoor stove. Boil water for beans, throw together a quick stir-fry, or make hard-boiled eggs.
You can cook relatively small or thin items, like hamburgers, hot dogs, sausages, or chicken breasts from frozen, so keep a few on hand in the freezer for a last-minute dinner. They'll take a little extra time to cook, but not nearly as long as making a run to the grocery store. Keep an eye the items, moving and turning them occasionally to make sure they don't char on the exterior before they cook through.
Keep a package of tortillas in your freezer. Toss them on the grill for a quick toast alongside almost anything from your fridge: any and all veggies (on those metal skewers!), pineapple, avocado, leftover sausages. With a dab of prepared salsa, any combo of leftovers or odds and ends becomes a full meal when you make it a taco.