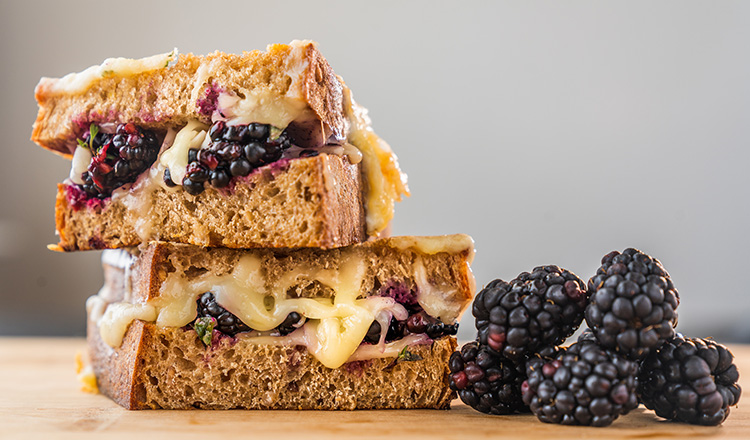 You know what sweet means, most likely, right? Cookies are sweet, candy is sweet, pineapple is sweet.
But do you know what savory means? Savory is harder to describe, but we often associate it with foods that are deep in flavor, like mushrooms or cooked beef stew. In more general terms, we might sometimes say savory when we mean "not sweet." So, a chicken pot pie might be described as a savory pie to specify that it's a typically-sweet thing (pie!) made with non-sweet ingredients.
So now that we know the difference between sweet and savory, it's time to mix them up!
Some of the best flavor combinations are ones that combine sweet and savory ingredients. Think peanut butter and jelly or chocolate-covered pretzels! If you like Hawaiian-style pizza (ham and pineapples!) or grapes in your chicken salad, you love sweet and savory.
One of the most perfect sweet and savory combinations is cheese and fruit. In parts of the country, people melt Cheddar cheese on their apple pie, and maybe at a holiday party, you've tried baked brie with apples or cranberries.
Rich foods, like cheese, which are full of fat from the milk that's used to make them, are great with fruit because they're opposites. Cheese is rich and salty, but fruit is acidic, sweet, and maybe even a little sour. They balance each other in a way that our taste buds really like!
If you love grilled cheese sandwiches (who doesn't?), why not try adding some summer fruits to experiment with sweet and savory? We made a version with fontina cheese, blackberries, and herbs, but you can try raspberries with Cheddar cheese, pitted cherries with Gruyère, or nectarines with a stinky-ish soft cheese, like Camembert.
You can add herbs, like we did, spreads like mustard (so goodwith Swiss cheese!) or, yes, even Nutella. Nutella, brie, and strawberries would be a pretty epic brunch sandwich.
Don't be limited by our suggestions – experiment with whatever sounds best to you!