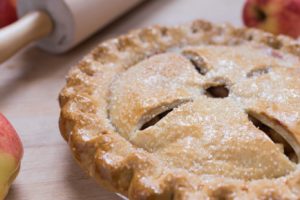 The second recipe we believe every home chef should know is apple pie! Apple pie is eaten all year around and it's the perfect dessert to bring to a get together or just make on rainy day. It may seem daunting at times with all of the steps that make up this classic dessert, but trust us when we say that it doesn't get easier than pie!
APPLE PIE
MAKES ONE 9-INCH PIE
This recipe makes 6 lbs or 10 pie shells
3-2-1 Pie Dough
3 lb. (12 ¾ cups) pastry flour
2 lb. (4 cups) fat (shortening and/or butter)
1 lb. (2 cups) cold water
1 ½ Tbsp. salt
Method
Combine the flour and salt together.
For flaky pie dough, rub the shortening and butter into the flour to form large nuggets. For mealy pie dough, work the fat into the flour to resemble crumb topping.
Add cold liquid to flour mixture; mix just enough to form a dough.
Use 10 oz. of dough for each 10-inch pan.
Bake at 400°F for 25 to 35 minutes or until done if you need a pre-baked pie shell.
For unbaked shells, prepare dough through step #4, using 1 oz. of pie dough for every inch of the diameter of the pie tin. Fill shell with amount of filling recipe calls for.
         Note: This dough does not have to be refrigerated before use.
Apple Filling
1 lbs Granny Smith apples
1 lbs Golden Delicious apples
​2⁄3 cup (4.5 oz.) white granulated sugar
¼ cup (2 oz.) brown sugar
¼ cup (1.25 oz.) cornstarch
1-2 tsp. ground cinnamon
2 tsp. fresh lemon juice
¼ tsp. freshly grated nutmeg
5 oz. Butter, cubed
Coarse sugar as needed
Nutmeg, freshly grated as needed
Method
Prepare 9-inch shell and set aside.
Peel and core apples. Slice ¼-inch thick.
Toss apples with sugar, brown sugar, cornstarch, cinnamon, and nutmeg. Add lemon juice and mix together.
Place filling evenly in pie shells. Dot pie with butter.
Add top crust. Egg wash and sprinkle with coarse sugar and freshly grated nutmeg.
Bake for approximately 55 minutes at 375°F until done.